What is Neuroeducation?
Neuroeducation (also known as Educational Neuroscience) is a field that studies the way our brains are wired to learn and how we can use that knowledge to enhance learning. It's a fascinating field that seeks to link neuroscience and education. While early attempts at bridging neuroscience and education sparked controversy, there is now widespread consensus that neuroscience plays an essential role in education reform, and it is revolutionizing how students are taught in classrooms all over the world.
Neuroeducation Degrees
Today, there is an increasing need for teachers to provide high-quality, tailored instruction to all types of students. Although most teachers welcome diverse groups of students in their classes, studies indicate that they may find it difficult to overcome the challenges that arise from cognitive diversity. In order to optimize the learning potential of each child, educators need to be aware of the differences in their students. They must provide instruction and guidance that meets the needs of each individual. In this context, neuroeducation plays a crucial role in the education sector. Neuroeducation is an exciting field that has only recently gained momentum. New technologies like brain mapping and scanning have made this possible, which enhances our understanding of how the human brain works.
Where Can I Study Neuroeducation?
Since neuroeducation is a field that focuses on basic research relating to educational issues, programs are available at the graduate level, and ideal candidates will need to have prior research experience. This experience can be gained through working as a research assistant during their undergraduate years or as a paid research assistant after graduation.
| | | |
| --- | --- | --- |
| Level of study | Program | Credits (May Vary) |
| Undergraduate | Bachelor of Science | 120 credits |
| Graduate | Master of Science (M.S), Master in Education (MED | Up to 60 credits |
| Doctorate | Doctor of Philosophy (Ph.D.) | Up to 60 credits |
Neuroeducation Degree Programs
#1.University Of Alabama
Program: Educational Neuroscience B.S.
Tuition: $545 per credit hour (resident); $1,385 per credit hour (non-resident)
Delivery: On Campus
Accreditation and ranking: Regionally accredited by SACSCOC and ranks at #3 best colleges in Alabama.
This B.S program in Educational Neuroscience was introduced to UA in the fall of 2020, and it is thefirst of its kind in the world. The Educational Neuroscience B.S program prepares future educators, administrators, and researchers to operate in the interdisciplinary field of educational neuroscience. In the first two years, students are provided with an in-depth scientific foundation followed by instruction in a variety of specialized subjects.
In addition, the program offers students a variety of opportunities to participate in research projects from the first semester onward. Under faculty supervision, students conduct independent research projects in their junior and senior years during lab practicums. This will help students develop independent research skills based on their experiences working on different projects in the first two years.
Upon graduation from this program, students will have the opportunity to pursue different career paths due to their extensive theoretical background and strong research skills. Students may opt to pursue graduate studies in educational neuroscience or another related field, while others may choose careers in health professions, public administration, the private sector, and non-profits.
Sample course
Anthropology and Humanity
Life Span Human Development
Human Anatomy & Physiology
Brain, Learning, and Cognition
Educational Psychology
Neuroimaging
Admission requirements:
The academic components considered are a student's high school GPA, performance in core subjects, academic honors, and standardized test scores.
#2. University Of Portland
Program: Master of Education (MEd) – Neuroeducation
Tuition: $689.00 Per Credit Hour
Delivery: On Campus
Accreditation and ranking: Regionally accredited by the Northwest Commission on Colleges and Universities and ranks #2 Best Value Colleges in Oregon.
University of Portland's master of education (MEd) program offers a neuroeducation specialty option that enables professionals to study the relationship between the brain, the mind, and translational applications. This information is useful for business executives, nurses, counselors, educators, speech-language pathologists, and psychologists who are involved in human interaction, teaching, and learning.
The curriculum integrates neuroscience, cognition, and learning into practice through state-of-the-art translational coursework. Courses include three components: 1) core neuroscience research, 2) current applications of brain-mind connections, and 3) translational studies into educational practice.
Sample course:
Foundations of Cognitive Processes in Learning
Neuroscience and Learning
Neuro-Biological Aspects of Learning in Diverse Populations
Neuroeducation: A Cultural-Linguistic Translation
Translational Studies and Research in Neuroeducation
Admission Requirements
Three Essays
Current Resume
Two Letters of Recommendation
Copy of current and valid teaching license
Official Transcripts
A bachelor's degree or its equivalent
Undergraduate GPA of 3.0 or higher (on a 4.0 scale)
#3. University Of California Riverside
Program: Neuroscience and Education M.A. Program
Tuition: $29,050 (in-state)
Delivery: On Campus
Accreditation: Regionally accredited by WASC.
The Neuroscience and Education M.A program at UCR provides students with a unique opportunity to specialize in the rapidly developing field of educational neuroscience. Students will gain valuable insight into social cognitive development, clinical presentations, and educational practice. It is modeled for students who are interested in acquiring knowledge in neuroscience and participating in ongoing research and educational activities.
Sample Course:
Human Differences
Cognitive Development
Introduction to Quantitative Methods
Educational Psychology
Brain and Behavior
Fundamentals of Neuroscience
Admission Requirements:
Transcripts for all colleges and universities attended
Three letters of recommendation from academic sources
Statement of Purpose
Writing sample
#4. University of New England
Program: Master of Neuroscience and Education
Tuition: A$23,536 (full fees)
Delivery: On Campus
Accreditation: Department of Education and Training of Australia.
The Master of Neuroscience and Education degree program at UNE equips students with a specialized understanding of the neurobiological processes that underlie specific types of behavior in educational settings.
Students will gain invaluable skills in this emerging field as they study evidence-based research on neuroscience and learning. Students may also apply for doctoral programs and research-based higher degrees once they graduate. In this flexible program, students have the freedom to specialize in educational leadership, improve their clinical skills in educational settings, or expand their knowledge of human behavior and learning.
Sample Course
Neurobiology
Neurobiology of Developmental, Anxiety, and Cognitive Disorders
Clinical Neuroscience
Understanding and Changing Human Behaviour
Neurobiological Bases of Autism
Admission Requirements:
Bachelor's degree in a relevant discipline/ graduate certificate
Certified academic transcript
Three years of professional experience in a relevant discipline
#5. La Sierra University
Program: Master of Arts with a specialization in Neuroscience and Learning
Tuition: $730 per unit
Delivery: On Campus
Accreditation: Accredited by WASC, Senior College and University Commission (WSCUC)
The Master of Education programs at La Sierra University are grounded in neuroscience, allowing students to gain from instruction methods that are customized to how our brains learn.
La Sierra University's Curriculum & Instruction Department prepares master educators to serve in public and private schools. As a result of these programs, graduates work as professional teachers, directors of instruction, subject matter specialists, and college professors.
Sample Course:
Neuroscience and Learning
Social and Emotional Intelligence
Critical Issues in Neuro. & Ped.
Biological Foundations of Ed.
Admission Requirements:
Post-secondary transcripts
3.0 Minimum GPA
Letters of Recommendation
Personal statement
#6. Teachers College, Columbia University
Program: M.S Neuroscience and Education
Tuition: $1,913 per credit hour.
Delivery: On Campus
Accreditation and ranking: Accredited by MSCHE and ranks #2 for Colleges with the best professors in America.
Teachers College at Columbia University is home to the first master's program in the country to focus on recent advances in the understanding of brain-behavior relationships and their educational implications.
Those who graduate from the program become a new kind of specialist: professionals with dual training in brain, cognition, and behavior, as well as school and other applied settings. Students gain a deeper understanding of neuroscience, cognition, education, and clinical practice through rigorous training and relevant experiences. While some graduates pursue careers in their fields of specialization, others pursue careers in research or apply to doctoral programs.
This program addresses the following core competencies:
Understanding the basics of neuroscience on several different levels.
Training in scientific methods, as well as an understanding of the scientific foundations of neuroscience research's educational applications.
Developing as a professional and being an active member of your field.
Neuroscientific research applications in a variety of professional fields.
Admission Requirements
Transcripts and/or Course-by-Course Evaluations for all Undergraduate/Graduate Coursework
Two Letters of Recommendation
#7. The University of Texas at Arlington
Program: Master of Education in Mind, Brain, and Education.
Tuition: $3,300 per 6 credit hours (in-state); $3,500 per 6 credit hours (out of state)
Delivery: Online
Accreditation and ranking: Regionally accredited by SACSCOC and ranks #9 Top public universities in Texas.
By participating in this program, students will develop their understanding and skills in informal and formal learning and teaching. Teaching and learning environments are designed with an emphasis on instructional and technological innovation. People with a variety of interests can take part in the program, including those who are interested in research, teaching, training, and learning environments.
MBE was the first master's degree in its field to be offered at The University of Texas at Arlington. For both formal and informal learning, neuroscience, cognitive, and technological contexts were important considerations during the program's development.
Sample Courses:
Introduction to mind, brain, and education
Introduction to educational neuroscience
The neuroscience of typical & atypical language development
Evaluating and debunking educational interventions
Admission requirements:
Two or more years of relevant experience
Undergraduate transcripts with a 3.0 GPA
Two letters of reference
Personal statement of interest
#8. University Of Alabama
Program: Ph.D. in Educational Psychology with an Educational Neuroscience concentration
Tuition: $5,550 per semester (resident); $15,730 per semester (non-resident)
Delivery: On Campus
This Ph.D. program in Educational Psychology with a Concentration in Educational Neuroscience integrates findings, methods, and theoretical perspectives from various disciplines. These include cognitive neuroscience, learning sciences, cognitive science, and educational psychology. Currently, only Ph.D. students in educational psychology can pursue the concentration. It is, however, possible for graduate students from any program to enroll in the courses offered.
Sample course:
Motivation and Self Regulation
Contemporary Educational Problems and Educational Psychology
Seminar in Learning and Cognition
The Psychology of Morality
Social and Cultural Basis of Behavior
Foundations of Educational Neuroscience
Admission Requirements:
Statement of purpose
Unofficial admission scores if required (GRE, MAT, GMAT, or MCAT)
Unofficial transcripts
Letters of recommendation
#9. Gallaudet University
Program: Ph.D. Program in Educational Neuroscience (PEN)
Tuition: 4 years of funding.
Delivery: On Campus
Accreditation and ranking: Regionally accredited by MSCHEand ranks#6 Colleges with the Best Academics in the District of Columbia.
In this pioneering program, students learn how humans learn using cognitive neuroscience, with an emphasis on the neuroplasticity of visually guided learning. The PEN program exposes students to cutting-edge neuroimaging methods in Cognitive Neuroscience, Neuroethics, and critical reasoning and analysis skills in science. Students learn how to apply science to benefit education and society today while becoming experts in contemporary neuroimaging and experimental behavioral science.
During this doctoral program, students are able to develop a specific research focus, conduct supervised research in their mentor's lab, and develop their own lines of research.
Admission Requirements:
Letters of recommendation
Strong research background
Narrative Statements
Resume
Undergraduate course in basic statistics.
#10. Vanderbilt University
Program: Educational Neuroscience PhD
Tuition: Up to five years of funding is provided for all Ph.D. students who are admitted.
Delivery: On Campus
Accreditation and ranking: Regionally accredited by SACSCOC and ranks #1 Best Colleges in Tennessee
The Vanderbilt University School of Education is the world's leading university in the field of Educational Neuroscience. The field of educational neuroscience places key educational issues within a scientific context that complements the social science basis of educational research. This context complements the biological basis of learning and behavior in neuroscience.
The purpose of this program is to integrate psychological theories into a broad framework, including developmental, cognitive, and affective processes. This program covers neuroscience research covering multiple levels, from genes to systems, in order to understand better core academic areas such as reading, math, science, and social development. By collaborating on these questions, students gain a deeper understanding of how the brain learns as well as more effective ways to teach.
Sample Course:
Neuroscience Research Forum
Systems Neuroscience
Neurobiology of Diseases
Molecular and Cellular
Neuroscience
Admission requirements:
Students who are learning psychology, sciences, or neuroscience graduates,
Research experience.
Graduates from a master's program with a research component.
How To Become A Neuroscience Researcher
High school is the starting point for a career as a neuroscience researcher. Biology is the primary field of neuroscience, so that's a good place to begin. The study of chemistry and physics is also crucial to understanding how the brain functions. Since this is a science, math is evidently vital to the analysis of data and testing of hypotheses in science.
The next step is to enroll in an undergraduate program. Majoring in psychology is an excellent choice if you're interested in the behavioral side of neuroscience. Furthermore, undergraduate students should study biology, chemistry, physics, and mathematics. During the undergraduate program, students are prepared for their coursework in the graduate program.
Enrolling in a graduate program is the next step. Typically, students who have excellent grades and research experience may opt to go straight to a Ph.D. program. You can, however, get a master's degree in educational neuroscience to gain more experience and knowledge before beginning the more advanced Ph.D. program.
The Ph.D. program culminates with students presenting their dissertations to a faculty panel and answering questions about them. Generally, neuroscience researchers work for a period of time as research assistants before they are hired for a permanent position. The experience you gain from this will make you more appealing to employers, as you will have a range of research experiences. It is important to publish your research in science journals at this stage, especially if you want to work in higher education.
The following chart highlights education levels for professionals working as neuroscientists/neuroscience researchers.
Source: Zippia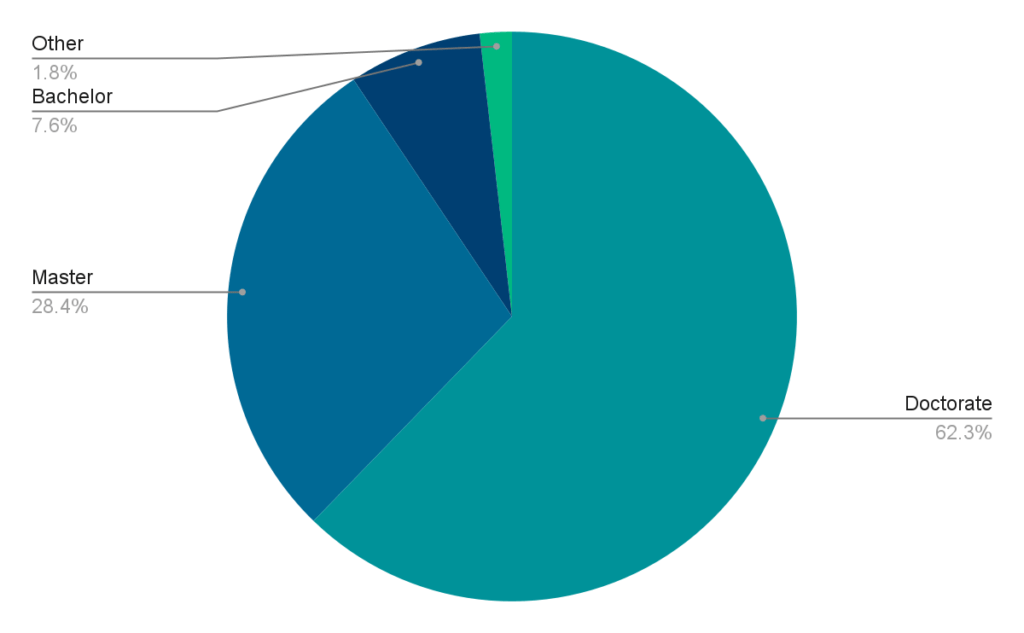 Jobs for Neuroeducation Graduates
Due to the program's emphasis on rigorous research methods, graduates are likely to become postdoctoral researchers or faculty members at universities with strong research orientations. This program is not intended to prepare students to become educators but to advance their careers by understanding the neural underpinnings of their clients' learning and cognitive profiles. In addition, they can work in research laboratories, consultancies, and educational software development companies.
Salary for Neuroscience Researchers
The following chart highlights salaries for neuroscience researchers based on industry type.
What Can You Do With A Masters Degree In Neuroeducation
For someone with this expertise, there are many great opportunities available. The intersection of neuroscience with education practice is both extremely valuable and rare. The expertise provided by this program can be utilized in a variety of ways:
Education Reform
Educators who work in schools or at the policy level can help reshape the education system. This can be accomplished by implementing operationally challenging reforms like later school start times for adolescents and cross-curricular learning for all ages. Alternatively, it might occur in more sweeping policy areas such as standardized testing or disciplinary procedures.
Ed Tech
Despite its potential, online and digital learning technology has not delivered on its promises. New technology can be developed by bringing a cutting-edge understanding of the neurology of learning and its relationship to pedagogy to the development of new technology.
Research
Research can be directed to areas of study that have an immediate impact on student learning by using a clear understanding of the most pressing questions and issues of educational practitioners and learners.
Benefits Of A Degree In Neuroeducation
Throughout our lives, we continue to learn new things, consume new information, expand our knowledge, and evolve our thinking skills. Despite some learning taking place in our spare time, the majority occurs in the workplace. Neuroeducation has a number of practical applications in the classroom that can be transferred to the workplace as well.
The training industry is massive in the United States, spending about $80 billion on corporate training every year and having an average budget of 82.5 billion for large companies by 2020. Online learning tools and systems cost companies, on average, $1,286 per learner.
These costs could be reduced through neuroeducation, which ensures only science-based training interventions are being implemented and that employees gain a deeper understanding of how the brain works. It is important that we have a basic understanding of the biological processes involved in the way we think, learn, and make decisions. Because a very limited number of schools currently teach these neuroeducational principles, employers could take on this role.
The use of neuro learning can also be highly beneficial for students with ADHD, dyslexia, and dyscalculia. It's a great way to address the enormous obstacles faced by students with learning disabilities daily.
Using neurological education, teachers can offer students a balanced education that considers their physical, social, and emotional development. Learning takes place differently for each student, so neuroscience recommends engaging them in different ways using the latest educational technology trends. Cognifit Neuroeducation is a great example of a technology that has been applied in multiple schools worldwide and has been highly effective, especially for students with learning disabilities.
To sum up, as neuroscience continues to grow and receives significant research funds, the role of those who can build a bridge between the research and educational spaces will be highly valued. This is evidenced by several academic institutions around the world establishing research centers focused on neuroeducation/ educational neuroscience. It's a great time to enroll in a neuroeducation program if you're interested in contributing findings in this fast-emerging field.