Online MBA From Indiana University Bloomington
The online MBA program at Indiana University Bloomington's Kelley School of Business is intended to give working individuals a flexible and convenient way to acquire their MBA. The program is structured yet flexible, allowing students to balance their education with personal and professional obligations. Students interact with multimedia course materials, participate in virtual discussions, and complete assignments and projects online using an interactive online learning environment.
Finance, marketing, strategy, operations, and leadership are among the many business disciplines covered in the curriculum, giving students a well-rounded business education. Students can concentrate in business analytics, entrepreneurship and innovation, finance, global supply chain management, marketing, and strategic management, allowing them to tailor their education to their career goals and interests.
Difference between MBA and MS
| | |
| --- | --- |
| MBA | MS |
| MBA programs are geared towards individuals seeking leadership and management roles in diverse industriesMBA programs typically require applicants to have significant work experienceMBA programs have a standardized core curriculum that covers various business disciplines | MS programs are often tailored towards individuals pursuing technical or specialized positions within a specific field.MS programs may admit students directly from undergraduate studies, although some MS programs may also require relevant work experience.MS programs have specialized coursework that delves deep into a specific subject area. |
Have a look at the admission requirements required to earn an accredited MBA
| | | | |
| --- | --- | --- | --- |
| Degree | credits | duration | Admission requirements |
| Master's degree | 54 credits | 2-5 years | GMAT or GRE scores official undergraduate and graduate transcripts |
Competitive applicants will be invited to a 30-minute phone interview with the admissions team at the school.
International students who were born in a non-native English-speaking country or who have not completed an undergraduate or graduate degree at an English-speaking institution may be required to present TOEFL or IELTS test scores to demonstrate English fluency.
Indiana university Bloomington
Program: Master of Business Administration
Tuition: $1521.45 per credit hour
Accreditation: the program is accredited by AACSB. The school is accredited by HLC.
Financial aid: Available with 80% of the students receiving the aid.
Program Structure: Indiana University Bloomington's online MBA program has a flexible framework that allows students to integrate their education with personal and professional obligations. It is intended for working professionals who desire to acquire an MBA without having to attend on-campus classes.
Curriculum: The Kelley School of Business's online MBA curriculum covers a wide range of business disciplines, including finance, marketing, strategy, operations, and leadership. Students get a solid foundation in key business ideas and can personalize their studies to their career goals and interests by selecting from a variety of elective courses.
Interactive Online Learning: The curriculum makes use of an interactive online learning environment that encourages student and teacher interaction and collaboration. Students can access multimedia course materials online, participate in virtual discussions, and complete assignments and projects.
Residencies: The Kelley Direct Online MBA program offers two residencies that allow students to meet in person with teachers, peers, and industry professionals. These residencies are held in various locales and include immersive experiences, networking opportunities, and specialized workshops.
Students enrolled in the online MBA program have the choice of specialization.
Job outlook for MBA graduates
The US Bureau of Labor Statistics (BLS) predicts high growth in management roles overall, with an 8 percent average rise in supervisory-level employment across all professions predicted from 2016 to 2026, adding 807,000 jobs. Furthermore, the BLS said that the median compensation for managers was $102,590, which is an essential consideration for students considering a large investment in their education.
Employment projections for top executives
Source U.S. Bureau of Labor Statistics, Employment Projections program
Top paying industries for MBA graduates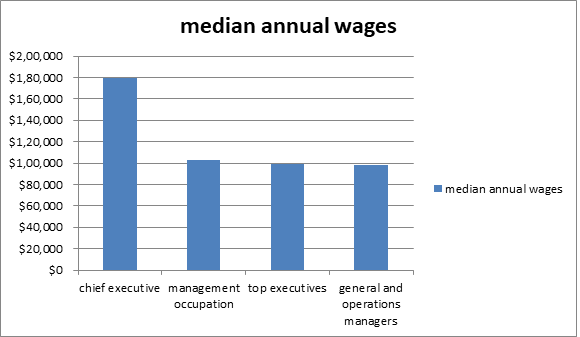 Source: U.S. Bureau of Labor Statistics
Is an MBA worth it?
Yes, it has a number of potential advantages, including increased job options, increased earning potential, and the development of key business skills. An MBA can help people develop in their jobs and take on more substantial responsibilities by opening doors to leadership and management positions. An MBA program provides graduates with a thorough understanding of numerous functional areas, allowing them to be adaptable professionals who can thrive in a variety of businesses.