It may be hard to believe that a university can be tuition-free and accredited, but that is what the University of The People (UoPeople) is.
Aptly named The University Of The People (UoPeople), this institution is committed to making higher education accessible to all. The school's unique approach has changed the lives of thousands of students around the world who have previously been unable to attend college due to financial limitations. The university is a pioneer in the field of tuition-free online higher education and has received widespread recognition for its innovative approach.
What Is Uopeople?
UoPeople is the world's first accredited online university to offer tuition-free degrees in which students all over the globe can earn their certificates and associates. bachelor's and master's degrees.
In 2009, Israeli entrepreneur Shai Reshef launched UoPeople. At the time, only 180 students from 49 countries enrolled in the school's associate or bachelor's degree programs in Business Administration and Computer Science.
It was a humble start for what is now one of the world's largest online accredited universities. It has since grown to more than 65,000 students as of the latest data collected in May 2021.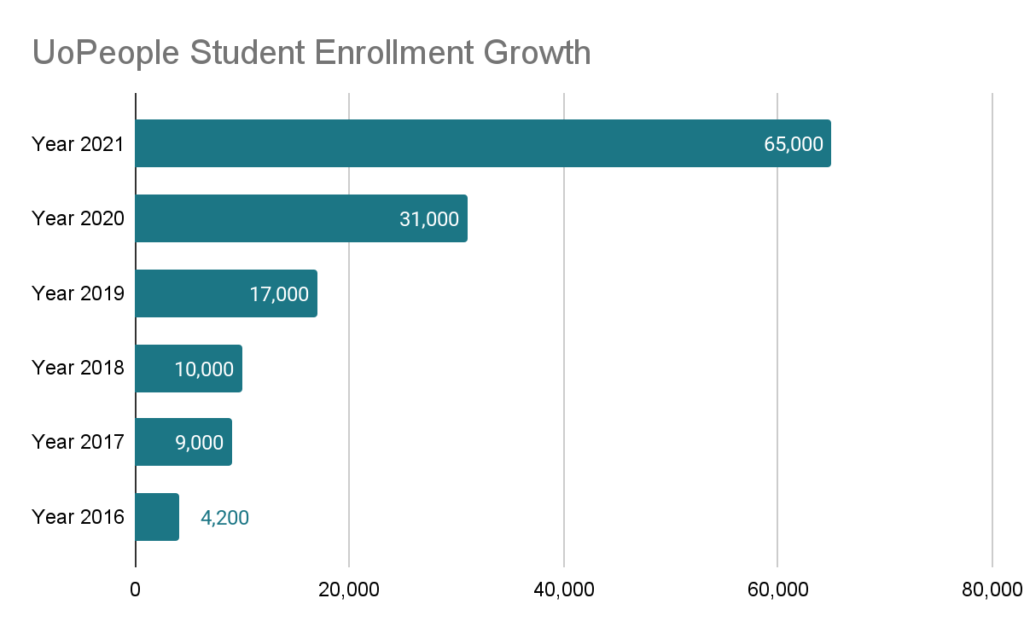 The student body at the University of People is made up of people from all over the world who have been welcomed into this new approach to education by highly qualified academics, humanitarians and visionaries. Many of its faculty and administrators work on an entirely volunteer basis.
Where Is UoPeople Located?
UoPeople is a fully online university with a worldwide student body, and it places heavy emphasis on maintaining cultural diversity. The Admissions office is located in Pasadena, California, and the staff there handles the paperwork and document processing for the students.
Is UoPeople Really Free?
UoPeople is 100% tuition free. However, like many other higher education institutions, including conventional colleges and universities, UoPeople charges a range of fees to help cover the costs associated with delivering high-quality educational opportunities. These include an application and an assessment fee per completed course as follows:
| | | | |
| --- | --- | --- | --- |
| Program | Fees per course | Duration | Total program fees |
| Associate's Degree | $120 | 2 Years | $2,460 |
| Bachelor's degree | $120 | 4 Years | $4,860 |
| MBA | $300 | 15 months | $3,660 |
| MeD | $300 | 17 months | $3,960 |
UoPeople does not charge annual enrollment fees and no cost for course material. Scholarships are available to help those who cannot otherwise afford the course fees. In addition, the school does not charge these fees upfront. Students can settle their fees as they go, making payments manageable.
Is UoPeople Accredited?
What is Accreditation?
An accredited university is recognized by the United States Department of Education as having met standards established by a peer review process that examines institutional policies and practices against specific criteria for quality in order to ensure student success and satisfaction.
UoPeople Accreditation
In February 2014, UoPeople became the first tuition-free, fully online university to receive accreditation from the Distance Education Accrediting Commission.
The Distance Education Accrediting Commission (DEAC) is recognized by the U.S. Department of Education as an accrediting agency for distance-education institutions. DEAC is also recognized by (CHEA) ) Council for Higher Education Accreditation. Recently, UoPeople has been recognized as a Candidate for accreditation with WASC Senior College and University Commission(WSCUC).
Can You Transfer UoPeople Credits To Other Universities?
Because the transferability of credits and acceptance of a UoPeople degree are determined by individual institutions, it is impossible to predict whether any given institution will accept or reject such documents.
If a student's UoPeople credits are not accepted by the school to which he or she transfers, they may have to repeat some or all of the courses at his/her new school. Because of the fact that students are investing their own time and money in obtaining a degree, they need to remain vigilant about how well UoPeople meets their educational goals.
UoPeople Online Certificates and Degrees
The university provides high-quality, accredited degree programs that offer students a unique learning experience. The institution's online learning with cutting-edge information technology and the Internet allows students to learn at their own pace and in their own way. Students have the opportunity to work closely with a Program Advisor throughout their course of study. The small online classroom setting of UoPeople (20-30 people) encourages collective learning through peer support from classmates and teachers.
The following are the programs available at the UoPeople:
Non-Degree Programs
If you want to learn new skills and take on exciting projects in less time than a four-year degree program, consider enrolling in any of these certificate programs.
| | | |
| --- | --- | --- |
| Subject | No of Courses per program | Courses |
| Business Administration | 3 | Accounting, Finance, Entrepreneurship, Marketing and Strategy |
| Computer Science | 7-8 | Data Science and Network and Application Security |
| Health Sciences | 4 | Human Biology, Public Health and Health Management, Epidemiology, Behavioral Health. |
| English as a Second Language (ESL) | 8 Levels of Proficiency | This program is structured around your individual English skill level. |
Associate's Degree
An associate's degree is a good stepping stone into many entry-level jobs. UoPeople offers Associate Degrees in the following subjects:
| | | |
| --- | --- | --- |
| Subject | Duration | Sample Courses |
| Business Administration (AS) | 2 Years (20 courses) | Principles of business managementMacroeconomics Principles of marketingMultinational management |
| Computer Science (AS) | 2 Years (20 courses) | Programming Fundamentals, 1&2Computer systemsDatabasesCommunications and NetworkingWeb programming and Operation systems |
| Health Sciences (AS) | 2 Years (19 courses) | Biology 1Introduction to human psychologyInfectious diseasesNutritionCommunity and public health |
Admission Requirements For Uopeople Associate's Degree
At UoPeople, you can enroll in an online Associate's Degrees if you have a high school diploma and are 16 years or older.
Bachelor's Degree
You can prepare for real-world success with a Bachelor's degree from UoPeople, which is crafted by top-notch industry leaders.
| | | |
| --- | --- | --- |
| Subject | Duration | Sample Courses |
| Business Administration (BS) | 4 years (120 credits) | Principles of business managementMacroeconomics Principles of financeMultinational management Business policy and strategy |
| Computer Science (BS) | 4 Years (40 courses) | Programming 1&2Computer systemsDatabases 1,2Software engineeringWeb programming and Operation systems |
| Health Sciences (BS) | 4 Years (39 courses) | BiologyHuman Anatomy & Physiology Infectious diseasesNutritionGeneticsBiostatistics |
Admission Requirements For Uopeople Bachelor's Degree
UoPeople Bachelor's programs accept students aged 16 or older who have graduated from high school and are proficient in English.
Master's Degree
With these online master's degrees designed for working professionals, you can reach your career goals.
| | | |
| --- | --- | --- |
| Subject | Duration | Sample Courses |
| Business Administration (MBA) | 15 months (12 courses) | Learning Theory and Implications for InstructionCurriculum Design and Instructional Decision Making Understanding Barriers to LearningTeaching for Diverse and Inclusive Classrooms |
| Information Technology (MS) | 12 months (12 courses) | DatabasesOperating systemAlgorithms |
| Education (M.eD) | 12 Months (13 courses) | Teaching for Diverse and Inclusive ClassroomsUnderstanding barriers of learningCurriculum Design and Instructional Decision Making Education in Context: History, Philosophy and Sociology |
Admission Requirements For Uopeople Masters Degree
For the MBA programs, applicants must be at least 18 years old and able to read and write English. Applicants must also have a bachelor's degree from an accredited U.S. institution or an equivalent international degree and a recommendation letter.
Is UoPeople Worth It
The University of the People is a good option for students who are looking for an affordable international/ online degree. It is especially worth it for students seeking accredited US Degrees while living outside the country. Here are some of the best reasons why you should consider UoPeople.
Affordable: Many students have dropped out of school because of financial strains. And even those who do graduate often end up with huge student loans. UoPeople offers low fees and scholarships to financially-strapped students and easy payment plans so that anyone can attend this great institution.
Accessibility: With UoPeople, students can attend classes anytime and anywhere, as long as they have a computer with an internet connection. This is especially helpful for international students who can't physically attend classes on campus. It also allows students to be more flexible with their schedules and not have to worry about having to take time off from their jobs or other commitments. For students from third-world countries who can't afford the high cost of traditional higher education, UoPeople is a great affordable option for quality education.
Transfer to well-established universities: UoPeople has established partnerships and collaborated with other world-renowned universities. Many UoPeople graduates go on to attend prestigious universities, including New York University, the University of Auckland, UC Berkeley and many more.
In terms of value and accessibility, the school is unquestionably worth it. There aren't many online, accredited, distance master's degrees that cost this little in the USA.
Degrees from UoPeople are currently accredited nationally. Compared to regional accreditation, national accreditation isn't as prestigious. The university is, however, a candidate for regional accreditation. There's a good chance that regional accreditation will happen soon. This will be a major milestone in the university's history and will hopefully lead to even more recognition from employers and universities worldwide.