Online college degrees in interdisciplinary studies offer students an outlook on the world of learning while allowing them the opportunity to enjoy the flexibility of distance education.
Here is a look at 10 of the cheapest Online Degrees in Interdisciplinary Studies available on the market.
1. University of South Dakota
Net Price: $7,043/yr
Degree: Online Master's in Interdisciplinary Studies
The M.S. in Interdisciplinary Studies at the University of South Dakota is a highly individualized graduate program designed to meet your unique academic and professional goals. You'll work with your advisor to finalize a customized course of study in at least two or three disciplines, using classes relevant to supporting you in achieving your educational goals. You'll be able to choose between taking a coursework-only option or completing a research paper/project. The courses are delivered through online and face-to-face instruction.
2. Southeast Missouri State University
Net Price: $7,185/yr
Degree: Bachelor of Interdisciplinary Studies
When you earn your bachelor's degree in interdisciplinary studies from Southeast Missouri state university, you'll create a degree custom to your goals. You'll choose 2-4 areas of study that fit your career aspirations and passions, whether business, social work, education, or another field. This will give you the opportunity for real-world experience through internships and clinical opportunities. The degree will also ensure a well-rounded education that prepares you for whatever comes next.
3. University of North Texas
Net Price: $7,788/yr
Degree: Online Master's in Interdisciplinary Studies
This Master in Interdisciplinary Studies program at the University of North Texas prepares you to examine and solve complex problems, drawing on skills and knowledge from more than one field. Whether you are preparing for a particular specialized career that requires uncommonly comprehensive training or seeks a global view on multifaceted issues for your personal development, this program may be what you are looking for.
4. Texas Tech University
Net Price: $8,181/yr
Degree: master's degree in Interdisciplinary Studies
The Interdisciplinary Studies program at Texas Tech is built to accommodate various types of students if you are a seasoned professional or a recent graduate of a bachelor's program. The program will hone your talents for future employment where broad knowledge, advanced research, and practical communication skills are highly demanded.
5. University of Maryland Global Campus
Net Price: $8,910/yr
Degree: Interdisciplinary Studies in Management Master's Specialization
The University of Maryland's interdisciplinary master's in management specialization can help you boost your professional value and learn the skills you need for maximum career flexibility.
It offers you fundamental skills in human resources, project management, marketing, information systems, and more. The curriculum includes core courses in Organizational Theory and Behavior, Statistics for Managerial Decision Making, and Financial Decision Making for Managers.
6. The University of Tennessee- Martin
Net Price: $$9,236/yr
Degree: Bachelor of Interdisciplinary Studies (B.I.S.)
The BIS program at the University of Tennessee- Martin combines courses from various disciplines, including education, psychology, sociology, political science, public health, and others. Students take a minimum of 120 hours of credit in education courses. The college accepts 60 hours of non-college credit.
7. University of New Orleans
Net Price: $11,256/yr
Degree: Bachelor of Interdisciplinary Studies
The Interdisciplinary Studies degree at The University of New Orleans is a unique, rigorous degree program administered by the Office of Academic Affairs. It provides versatility for students seeking to design a coherent academic plan through the process of integrative learning. Integrative learning combines and coordinates academic elements into a whole or aggregate.
8. American Public University System
Net Price:$11,503 /yr
Degree: B.A. in Interdisciplinary Studies
APUS is known for its interdisciplinary degree program, which allows you to build your area of specialization in an online setting. You'll take general education classes and then choose courses from a wide range such as business, managerial sciences or communication, and media studies. This transfer-friendly degree allows you to focus on unique study areas without the constraints of a traditional major.
9. Arizona State University- online
Net Price $14,342/yr
Degree: Bachelor of Arts in Interdisciplinary Studies
A.S.U.'s Bachelor of Arts in interdisciplinary studies focuses on two topics of your choosing. It's ideal for undecided students who seek to transfer or pursue multiple areas of study, such as history and philosophy. The program is creative and flexible, allowing students to create a personalized education that meets their unique interests. Students may choose one focus from the following three categories: Arts & Humanities, Social Sciences, and Natural Sciences & Mathematics.
10. Colorado State University – Global
Net Price: $14,024 /yr
Degree: Bachelor of Science in Interdisciplinary Professional Studies
C.S.U. Global's Bachelor of Science in Interdisciplinary Professional Studies allows students to develop their skills and knowledge in various areas. This degree aims to help students become influential professionals in an increasingly diverse and globalized world by providing them with the tools they need to succeed.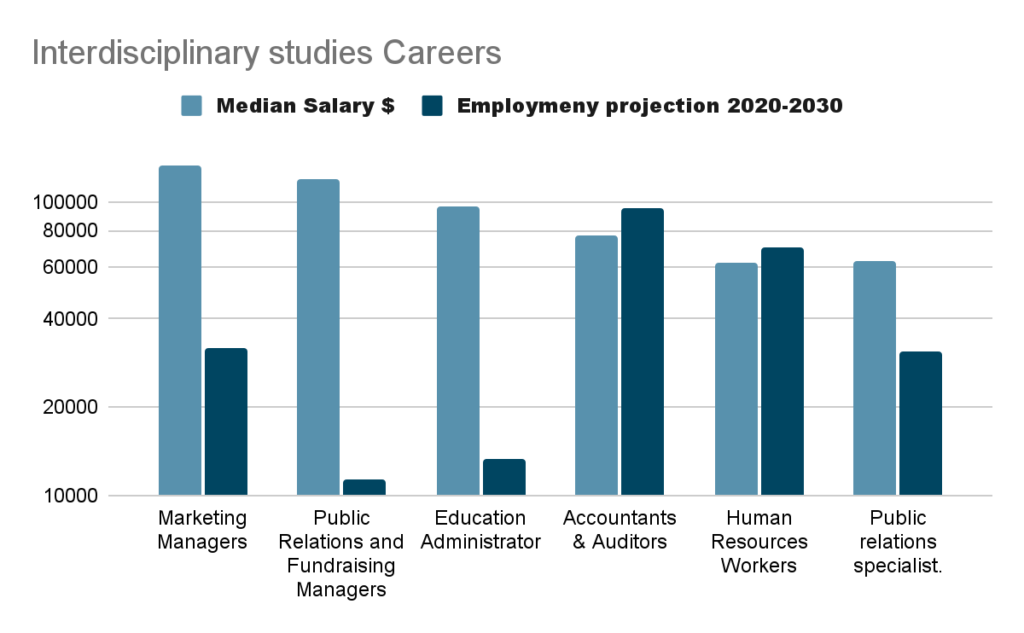 *Data collected from the Bureau of Labor Statistics
Courses included in Interdisciplinary studies.
Mathematics: This class introduces you to basic mathematical concepts and prepares you for more advanced analysis.
General Biology: A comprehensive biology survey, this course explores all aspects of life, from genetics to ecosystems.
Natural Sciences: This class teaches you about some of the most important scientific discoveries in history and how they shaped our understanding of natural phenomena like weather and geology.
Social and Behavioral Sciences: The course teaches students how to recognize, understand, and address social problems.
First-Year Composition: The writing course required for most bachelor's degrees, this course helps you develop your analytical and writing skills. It also helps you prepare for advanced college-level communication classes later in your degree program.
Written and Oral Communication: In this course, students learn about the different fields of communication, such as marketing, public relations, corporate communications, and more.
Historical awareness: A historical awareness course teaches students to understand how the past has shaped the present and how it will shape our future. Students learn to understand their own culture better by understanding others as well.
Employee and Labor Relations course: This course aims to provide students with an understanding of the dynamics that exist between employers and employees. This includes how these dynamics are affected by the type of industry and its economic conditions.
Common areas of emphasis
Interdisciplinary studies degrees allow you to choose from 2-4 areas of interest. Your college will ask you to choose from any of the following areas of emphasis:
Child Development
Criminal Justice
Economics
English Literature
E.S.L.
Family Studies
Healthcare Administration
Healthcare Management
Industrial Engineering & Technology
Information Systems
Mass Media
Mathematics
Psychology
Sociology
History
General Admission Requirements
| | |
| --- | --- |
| Degree | Admission Requirements |
| Interdisciplinary Studies, B.A., B.S., B.P.S. | High school diploma or equivalentcollege transcripts from any previously attended institutions.Letters of recommendation.300-350 word essay |
| Master's in Interdisciplinary Studies | Bachelor's degree from an accredited institution Maintain an undergraduate GPA of 3.0 or higher at all times. Letters of recommendation Internship or work experience, Written statement of purpose or goals. |
What You Can Do with an Interdisciplinary Studies Degree
Interdisciplinary Studies is a broad, flexible major that allows you to explore many subject areas and gain a more profound understanding of the world. It is designed for students who want to focus on the intersections between disciplines — those who want to holistically learn about the world rather than just one field of study.
The curriculum offers a range of courses in subjects such as art history, literature, political science, and sociology. You'll develop a foundation in each of these disciplines while exploring their connections with other fields. You can also take classes in other majors at UConn if they interest you — such as psychology or philosophy — but keep in mind that this will add extra time to your degree plan.
As an interdisciplinary studies major, you'll be able to choose from several concentrations: arts; business; communication; education, environmental science, health sciences, public affairs, and social justice.
Online learning presents an attractive option for those seeking a low-cost education.
By combining online Interdisciplinary degrees with other education savings strategies, prospective students can gain a valuable credentials at a price point that suits their needs. However, it is essential to research programs thoroughly before applying to ensure the program meets specific educational goals.