Gerontology is the study of aging, and gerontologists work to improve the lives of older adults. Medical experts and other professionals in this discipline work to help adults over the age of 65 live their best lives.
According to the Bureau of Labor Statistics (BLS), the demand for these workers will increase by 6% between 2019 and 2029. During this time, the BLS predicts a 17 percent increase in employment in the human services industry.
Since aging is a subject that's relevant to all people, there are many different entry points into the field.
A gerontology degree focuses on the knowledge and skills that employees will need for entry-level jobs or graduate school. Online programs, on the other hand, enable those who would not otherwise be able to attend college to get a degree and explore new job options.
That said, an online gerontology degree program can be a great way to get started in this rewarding career path. The good news is that with some research and planning, you'll be able to find affordable online gerontology degree programs that fit your specific needs and interests!
We have compiled a list of 9 colleges to assist degree seekers earn their Gerontology Degrees online on a budget.
Also check our articles on how long to become a nurse and cheap degrees in social work.
Types of Degrees Available in Gerontology
Gerontology degrees are available at several levels from certificate to PhD, which the highest gerontology degree available. The length of time it takes to earn a gerontology degree varies.
| | | |
| --- | --- | --- |
| Degree | Credit | General Program Length |
| Certificate | 12-18 credits | 1 year |
| Associate Degree | 60-70 | 2 years |
| Bachelor's Degree | 120 credits | 4 years and require an internship |
| Master's Degree | 50-70 credits and research paper | 1-3 years |
| Doctorate | coursework and thesis or dissertation | At least 4 years |
9 Cheapest Online Gerontology Degree Programs Starting at $300 Tuition Per Credit Hour
1. Kansas State University (Manhattan, Kansas)
Tuition Rates: $585.60 per credit hour
Degree: Gerontology Master's Degree
Kansas State University was founded in 1863 as a land-grant college and the state's first public higher education institution. The university has branch campuses in Olathe and Salina and its main campus in Manhattan. The school's academic offerings are distributed among nine colleges, with 45 doctoral programs and 65 master's degrees among the graduate degrees available.
The online master's degree in gerontology is aimed at students who plan to work directly with older individuals or will be involved in research or education on aging issues. The program draws on graduate courses and graduate instructors from a variety of colleges to offer students the basic competencies outlined by the Association for Gerontology in Higher Education.
2. North Dakota State University (Fargo, North Dakota)
Tuition Rates: $877.40 per credit
Degree: M.S. in Human Development and Family Science in Gerontology
North Dakota State University offers an online M.S in Human Development and Family Science in Gerontology. The program is offered by the College of Human Development and Social Services, which also offers several other programs in social work.
The university's M.S in Gerontology is Council on Social Work Education (CSWE) accredited. This national accrediting organization provides guidelines used by schools to ensure quality education across academic disciplines.
Students who enroll in this program will also receive access to a number of online resources, including journals, articles and other publications on aging-related topics.
3. University of Maryland Global Campus (Adelphi, Maryland)
Tuition per credit: $312(in-state)
$499 (out of state)
Degree: Bachelor's degree in gerontology and aging services
The University of Maryland-University College offers a Bachelor of Science in Gerontology and Aging Services geared toward people already employed in the healthcare field. Students must complete 33 credit hours of major coursework to achieve the degree. Students must also complete a three-credit internship course during which they will acquire real-world experience for 15 weeks.
4. University of Massachusetts-Boston (Boston, Massachusetts)
Tuition Fee: $18,888
Degree: online master's degree in the management of aging services
The university of Massachusetts-Boston offers a Master of Science in Gerontology online through its School of Public Health. This program is only two semesters long, which makes it an excellent choice for working professionals.
The curriculum features various topics such as health, marketing, resource management, program creation, service delivery, policy, aging psychology, organizational finance, advocacy, and program development and management in a small-group setting.
Students must take a capstone course in one of the following areas: finance, administration, program management, or analysis to graduate from the program. Part-time students can finish the 12-course program in less than three years, while full-time students can finish in three semesters. This award-winning, approved curriculum is offered by the world's second-oldest graduate department of gerontology.
5. University of Missouri (Columbia, Missouri)
Total tuition cost plus fees: $29,139.00
Degree: MS in Adult-gerontology clinical nurse specialist
The University of Missouri offers an affordable M.S degree in Gerontology. They are considered a Tier 2 school by U.S News and World Report, meaning their tuition is affordable for those who want to pursue an online degree program but don't want to take out large loans for it.
UMKC's online Gerontology degree costs only $29,139.00 with no additional fees or hidden costs!
6. Oklahoma State University (Boston, Massachusetts)
Estimated total program cost: $21,600
Degree: online master's degree in Aging Studies
Oklahoma State University offers a Bachelor of Science in Gerontology, a Master of Science in Gerontology, and a Doctor of Philosophy in Gerontology. Students at OSU have the opportunity to work with researchers from across campus on projects to improve the lives of people who are aging.
OSU also has several centres and institutes that provide opportunities for students to develop practical skills while learning about issues related to aging. These include:
The Center on Aging, which focuses on preventing disability through education and research
The Center for Health Systems Research, which studies health care policy issues affecting older adults
The Center for Research on Aging & Community Engagement (CRACE), which provides hands-on experience doing community service as well as professional development opportunities
7. University of Florida (Gainesville, Florida)
Tuition Fee Per Credit Hour: $550 plus $35.75 student fees
Degree: online master's degree in Gerontology
The University of Florida offers a Master of Science in Gerontology, which focuses on aging and its effects on individuals, families and communities. Students can specialize in an area such as aging services administration or gerontological counselling. UF also offers a PhD in Gerontology that prepares graduates for careers in academia and research. The university also offers an online gerontology certificate that comprises five courses: Introduction to Gerontology; Principles of Long-Term Care Administration; Community-Based Programs for Older Adults; Fundamentals of Aging; and Social Gerontology.
8. Texas State University (San Marcos, TX)
Tuition Fee: $12,379/yr
Degree: Master of Science in Dementia and Aging Studies
Texas State University is one of the top public universities in the country, so if you are looking for a quality school with great academics, then this could be a good choice for you. The university offers an online degree in gerontology that is perfect for people who live in Texas and want to study the elderly
You will also be able to earn your master's degree within just two years while still being able to take advantage of all that an online learning environment has to offer. There are seven different concentrations available such as aging policy and public health promotion or aging science research methods and theory development, among others. University of North Carolina (Greensboro, NC)
Tuition Fee per credit hour: $336/credit (in-state)
$1,098 (out-of-state)
Degree: online master's degree in Gerontology
If you're hoping to dive into gerontology as a career and earn a degree in the field, the University of North Carolina might be just the place for you. The school offers both a Master's degree and certificate program in gerontology, which means if you want to pursue the subject further after your undergrad years or need more specialized training than what's offered at most schools, this is an excellent choice.
The master's program can take up to four years to complete, but most students finish their coursework within three years. Students who want to earn their certificate will take one year to complete their studies with UNC—a shorter period than some other programs offer. However, you still get enough time for solid preparation in applied research methods and clinical practice skills if those are areas where you want additional training later on down the road.
9. University of North Georgia (Dahlonega, GA)
Tuition Fee per credit hour: $303
Degree: Gerontology Undergraduate Certificate
Non-degree students can enroll in gerontology classes at the University of North Georgia. Its graduate and undergraduate certificates make it simple for students to get the skills and preparation they need without having to pursue a second degree. Both programs require only 18 credits and offer fully online, flexible courses to fit busy lives and work schedules. Most students complete their degree in approximately two to three semesters, earning specialized knowledge in program assessment, public policy, and resource planning for the elderly.
Their undergraduate certificate program features the biology of aging, communication with older persons, and other topics. To complete the program, they either participate in a research component or a practicum experience in applied clinical settings.
The graduate certificate has many of the same core courses and capstone requirements as the undergraduate certificate, including electives in death and dying health promotion, human development, and aging psychology.
Job outlook Salary for people with a Degree in Gerontology
Between 2016 and 2026, jobs in gerontology are predicted to expand by 11.7 per cent. The occupations listed below are some of the most in-demand in the field of gerontology.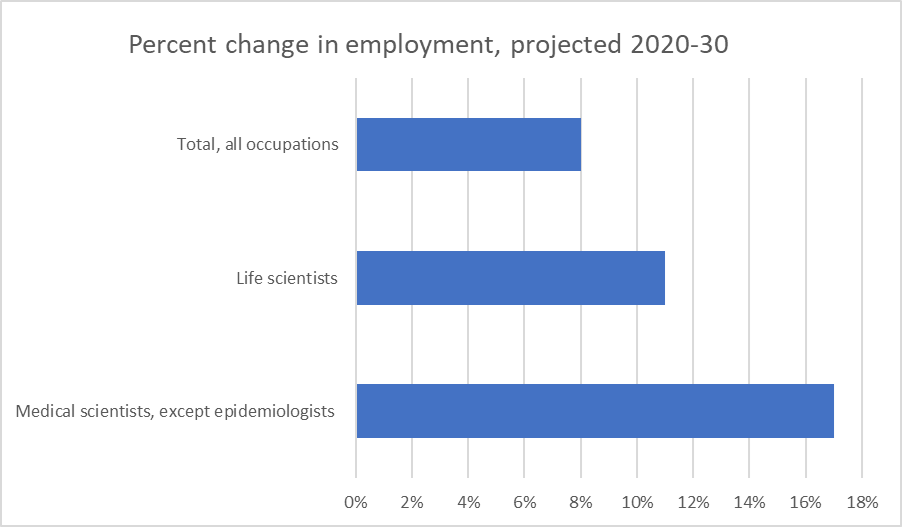 SOURCE: BLS, Employment Projections program
A bachelor's degree is the most prevalent level of education for people working in the field of gerontology, with around 34.6% of professionals earning one. People who work in the field of gerontology typically have the following educational backgrounds:
| | |
| --- | --- |
| Level of Education | Percentage of Workers |
| Bachelor's Degree | 34.6% |
| Post-Doctoral Training | 26.0% |
| Master's Degree | 22.4% |
| Doctoral Degree | 16.6% |
| Post-Baccalaureate Certificate | 0.7% |
Salary outlook for people with a Degree in Gerontology
In May 2021, the median yearly wage for medical scientists was $95,310. Half of the gerontology workers in any given occupation earned more than that salary amount, while the other half earned less. The bottom 10% of earners earned less than $50,100, while the top 10% earned more than $166,980.
The table below shows the median yearly incomes for medical scientists in the top industries where they worked:
Salary outlook
| | |
| --- | --- |
| Job Title | Annual Mean Wage |
| Research and development in the engineering, physical, and life sciences | $102,210 |
| Pharmaceutical and medicine manufacturing | $60,210 |
| Hospitals; state, local, and private | $ 79,800 |
| Offices of physicians | $ 79,760 |
| Colleges, universities, and professional schools; state, local, and private | $62,560 |
High Paying Careers for Gerontology Majors
Salary for gerontology graduates varies greatly depending on the field of study. The chart below shows the top highest-paying jobs for gerontology graduates: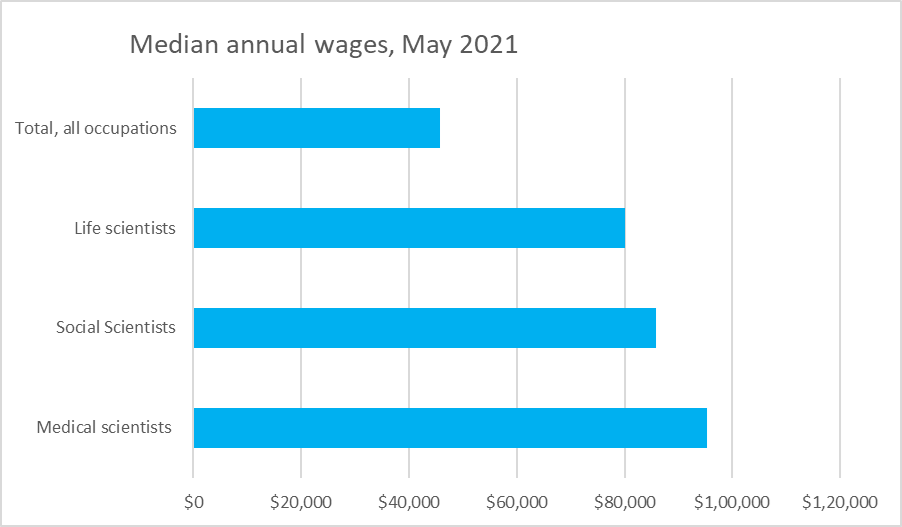 SOURCE: BLS, Employment Projections program
What Can You Do with a Gerontology Degree?
A Gerontology Degree Can Lead To A Variety Of Positions.
A college degree in gerontology is an excellent choice for students who want to be involved in the health and wellness of older adults. With this degree, you can work in a variety of different settings, including:
Hospitals
nursing homes
retirement communities
long-term care facilities
If you're interested in careers with more direct patient contact and you can an associate's degree or certificate before you go on to earn your bachelor's degree at a four-year university.
As a gerontologist, you will use your knowledge of aging processes, human behavior and societal perspectives to help people manage their lives throughout their senior years. Some of the job titles that graduates hold include:
Geriatric nurse practitioners
Hospital chaplains
Social and Health Services Assistants
spiritual counselor
Social worker
Nursing and Home Health Aides
Medical and Health Services Managers
Social Scientists
Gerontology Certification, Licensure and Associations
Gerontologists can work in a variety of fields. Each specialty has its own set of standards for licensure and certification. Licensing requirements differ from state to state and from employer to employer.
You don't need certification or licensure to work as a gerontologist. However, certification or licensure is usually required for jobs in the healthcare profession. Nursing homes frequently hire nursing assistants who must complete a minimum of 75 hours of training and pass a test. Certified nursing aides are listed in the state's nursing aide register.
A competency exam that examines skills in 12 areas linked to home health care is required by federal law for home health aides. Aside from the examination, most states require training under the supervision of a qualified nurse. Home health assistant training programs differ from state to state.